Two Lever Control Throttel & Gear (Black/Chrome)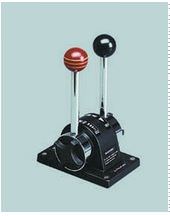 Description
Features
Provided with the gear lever detents and with a brake tension release system adjustable from the outside of the throttle lever. Neutral safety switch 4-X12 (optional) prevent in-gear starting. Exceeds EN 11547 standard when installed.
Their design makes them suitable for exposed positions such as flying bridge.
For use with Ultraflex C2,C7,C8 and MACH Zero cables. Ultraflex C22 cables require a 4-K32 connection kit.
Specifications
Extras/Additional Info:

Dimensions: stroke: 87mm