Hempel Paints Classic Varnish 2.5L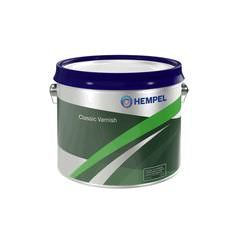 Description
Product Description:
Single pack, traditional varnish produced from the highest quality materials, including tung oil. Excellent flow at application, a flexible finish and long term UV filters will ensure you an uncompromising finish that will last for many years. For internal and external use above the waterline.
HEMPEL'S CLASSIC VARNISH is an air-drying, clear alkyd varnish with tung oil. It has good resistance to seawater, sunlight and adverse weather conditions.
Recommended use: On new wood as well as on previously varnished wood, interior and exterior, above the waterline.
Specifications
Extras/Additional Info:

PHYSICAL CONSTANTS:

Colours/Shade nos: Transparent/00000
Finish: High-gloss
Volume solids, %: 55 ± 1
Theoretical spreading rate: 18.3 m²/litre - 30 micron
735 sq.ft./US gallon - 1.2 mils
Flash point: 38°C/100°F
Specific gravity: 0.9 kg/litre - 7.5 lbs/US gallon
Dry to touch: 10 (app) hours at 20°C/68°F
20 (app) hours at 10°C/50°F
V.O.C. 355 g/litre - 2.9 lbs/US gallon